3rd June (Happy Birthday Lucy!)
After 2 days of physical activity, today we rewarded ourselves by letting the train take the strain.

The narrow gauge "White Pass and Yukon Route" train took us twenty miles up the valley towards the goldfields. The train climbs at a steep rate, averaging only 12 mph over the entire climb.

As you rise up the sides of the valley wall toward the 2,800 foot White Pass, the views on both sides of the train are vertiginous. You're allowed to stand on the old-style exposed platforms outside the end of each carriage, where you can peek down past your toes toward the white water of the Skagway River, still ominous with power at a range of thousands of feet. As your eyes swing up, splendid mixed forests of dark conifers interspersed with waterfalls gradually give way to a barren moorland of gorse and alder. This in its turn is gradually overrun by white fingers of snow, until on high the misty fastnesses of the highest peaks loom overhead.

This natural spectacle is matched by the railway itself. The fact that it was built at all is remarkable: and that it was largely completed in just 14 months is incredible. The builders had to withstand cold up to -60deg F and often worked suspended from ropes on the side of the hill. At the top of the pass, snow up to 40 feet is commonplace. Most of the railway was blasted out of solid rock, and it boasts the highest railway tunnel in North America.

All along the route you're aware of the gold-rush era, when hopeful "stampeders" made the trek on foot. The Canadian Mounties waiting at the border demanded that each would-be millionaire entered with a 2,000 lb load of supplies for the winter ahead, and this meant that most of the stampeders had to make the climb 40 times, each with a 50 lb load on their back. The alternative was pack horses: 3,000 perished that winter in what is still known as Dead Horse Gulch, and some of the skeletons are there today. It's hard to imagine what drove the stampeders to struggle over the pass, when they knew they'd just be faced with a further 550 miles to the gold fields and potential richness.

Of course, by the time fifty percent of them got to the goldfields most found the land long since staked and claimed and they ended up earning wages from someone else. The little they did earn ended up in the pockets of the real goldrush winners, the shopkeepers and bar owners. It seems few stampeders really profited from this goldrush at all!

(click thumbnails for a larger picture)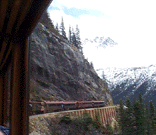 Mountain hugging railway


View down from the railway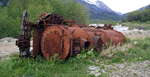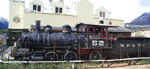 Very old and quite old engines