30th May
This morning we arrived on the ferry in Juneau, capital of Alaska. It nestles between wooded hills and the sea, with soaring snow capped mountains in the background. When (if?) the mist and rain clears, this will be a very beautiful place. In fact, it is beautiful even in the mist, but you do keep wondering whether there is another range of snow capped peaks lurking somewhere in the clouds.

Staving off the urge to sleep all day (last night's ferry passage wasn't very peaceful), we headed off to see the Mendenhall Glacier, a few miles out of town.This is real 5 star tourism, we just hailed a taxi and were dropped in sight of a glacier!

What an incredible sight! It really is a stationary river of ice, dropping away into a lake. The ice that is now melting at the face of the glacier, fell about 200 years ago as snow, got compacted into ice by the huge pressure and has slowly made its way down the mountain. We tried throwing stones at the smaller pieces of ice which were in the lake near the shore but hardly made a dent. It certainly is solid ice. Not even David with his huge strength and accuracy (please can we we go to another cake shop David?) was able to break up these tiny icebergs.

The lake is reminisicent of that scene at the end of Titanic where they are all in the water surrounded by bits of ice. It was indeed very beautiful (note to self: must think of some more adjectives for this country). Roll on Glacier Bay (trip scheduled for a few days time)...
(click thumbnails for a larger picture)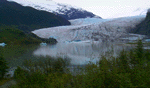 This thumbnail really doesn't do the full size picture justice: This one really is worth clicking.