12th June
Last thing in Juneau: quick hike, taking in the "Last Chance Goldmine" museum. Reasonably ridiculous attempt at a museum (basically all the junk that was lying around when they closed the museum down about fifty years ago). But, they did let you try to pan for gold, and, I found some (!!!). See this picture...

Then, on the 11th, up at 5.30am and off to the airport to get the plane to Anchorage. Quick plug time: we spent a total of six days at the splendid Jan's View guesthouse (Jan is no relation).

We flew into Anchorage, then followed a frenzy of pick up hire car, buy provisions, buy tent, stove, etc etc, and hurtle north to Talkeetna, where we camped the night. En route we saw great views of Mount McKinley. For the record, this is the highest mountain in North America, but the Andes and the Himalaya go higher, and the fact that it goes 18,000 feet above the surrounding plane is not unique. Still, it is pretty.

The next morning, we sprang up and toured the Talkeetna Historical Society Museum. A lot of this was devoted to the exploits of one Don Sheldon. This was a guy who flew umpteen climbers in and out of the glaciers around Mount McKinley. On close inspection, it turns out that he wrecked around 35 aeroplanes - one gets the impression he wasn't just good, but also lucky.

Then we drove north to Denali.
(click thumbnails for a larger picture)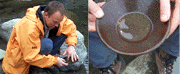 Panning for gold


Mount McKinley