6th June
The afficianados of this site will be pleased to hear that the sun has not stopped shining since we arrived back here in Juneau, and we have not stopped walking - and uphill at that. Yesterday we climbed up Mt Roberts (well the first bit anyway) and today we have walked the West Glacier Trail alongside the Mendenhall Glacier. It was sunny, beautiful, fragrant and we saw a porcupine. We have also seen a bear! On Friday night when driving in from the ferry we saw a mummy black bear just outside Juneau. It was big and cuddly - but we stayed a long way away just in case.

Mt Roberts
Mount Roberts is one of the 2 large mountains overlooking Juneau - the other being Mount Juneau. There is now a cable car going up Mount Roberts but, being gluttons for punishment, we decided to walk up with our picnic. It was a lovely walk, even if a bit steep in places and the highspot was when Jan went up to her knees in snow. It is incredible to be at an altitude of 1200', for it to be June and warm and there is still snow on the ground. In fact, when we got to the top of the cable car, we could not go any further (phew!) as the route was closed due to snow. David, however, decided to climb on a bit just so that he could take a picture of a view we hadn't seen! The views were lovely, as was our picnic which we ate on an unfenced platform still under construction. We came down in the cable car and learnt from the operator that the 'ho ho' means very much in Tlingit.

West Glacier Trail
The West Glacier trail runs up the west side of Mendenhall Glacier (no, really?), from where you can get some great views of the glacier (how surprising). One of these is at the right. Not much more to say really, as you already know what the picnic contained, and the weather was lovely.
We did meet some people who'd moved to Juneau a year earlier and had just survived their first winter. This is no mean feat, as the 4 hour days sap most peoples' will to go on. In fact, the latest craze are little boxes that emit ultra-violet light and supposedly make people happier and more positive. Of course, if you use them too much you also get radiation sickness, but then nothing's perfect.


Picnics
Regular readers will have noted that our hikes are never complete without a picnic. As it happens, all the picnics are precisely identical (!) so the menu need only be described once.
To start: baby carrots, pre-peeled
Main course: freshly made sandwiches of bread, cheese and cucumber (the cheeseboard always contains cheddar and philadelphia, and did once extend to Cambozola).
Dessert: A selection of dried fruits (well, apricots and dates actually) and and oatmeal chewy bar
To finish: finest tap water and an apple.
Not exciting, but wholesome and, after the first half-dozen repetitions, curiously pleasing in its monotony.
(click thumbnails for a larger picture)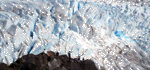 Mendenhall with (small) picture of David